Financial Commitments Restructuring
When enterprises have a significant value of debt financing in a form of loans or leasing and they find it hard to service the obligations, it is worth considering their restructuring. It is mainly about finding consensus with Financial Institutions with regard to rescheduling such agreements so that the company may bear the burden of their timely service. However, in order to do that, you need to develop a Restructuring Program and convince Financial Institutions that once this program is implemented, the company will be able to fulfill their obligations. Furthermore, you need to remember that restructuring agreements should cover all banks and leasing companies that finance a given enterprise, so that no Lessor will feel to be in a worse position than other lessors.
MGW CCG has long-term experience in running such projects and handles the following tasks:
Preparing a professional Restructuring Program together with the Client dedicated to Financial Institutions as part of restructuring
Preparing a professional financial model up to the standard expected by Financial Institutions during restructuring processes, taking into account restructuring proposals
Organization and management of negotiations between the Client and Financial Institutions, including all banks and leasing companies participating in providing financial support for a given company, if necessary. Negotiations are held to carry out a Restructuring Agreement acceptable for all the parties involved
Support in the process of negotiating provisions of the Restructuring Agreement
The success of such projects is achieved thanks to Negotiator's experience in conducting similar negotiations, practical knowledge of business restructuring methods, an outstanding analytical team capable of supporting business through a well formatted model of financial projections and trust for the Negotiator on part of Financial Institutions. Our Company is proud to have all such attributes. We have been running this type of projects for many years. We are listed on dedicated banking advisor lists and we have competence to run such projects that have been verified by such banks.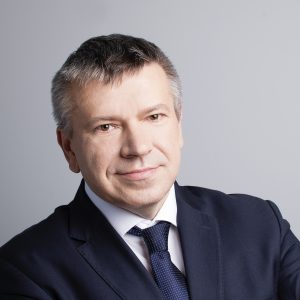 Mariusz Grajda
Managing Partner